From modern city to wildlife on the savannah, Kenya has a bewildering array of life and lifestyles. See the gallery.
Kenya's growing tech sector has earned it the nickname of "The Silicon Savannah". It is called one of the "KINGS" (Kenya, Ivory Coast, Nigeria, Ghana and South Africa) of Africa's digital economy. Africa's emerging digital economy is changing the continent's narrative.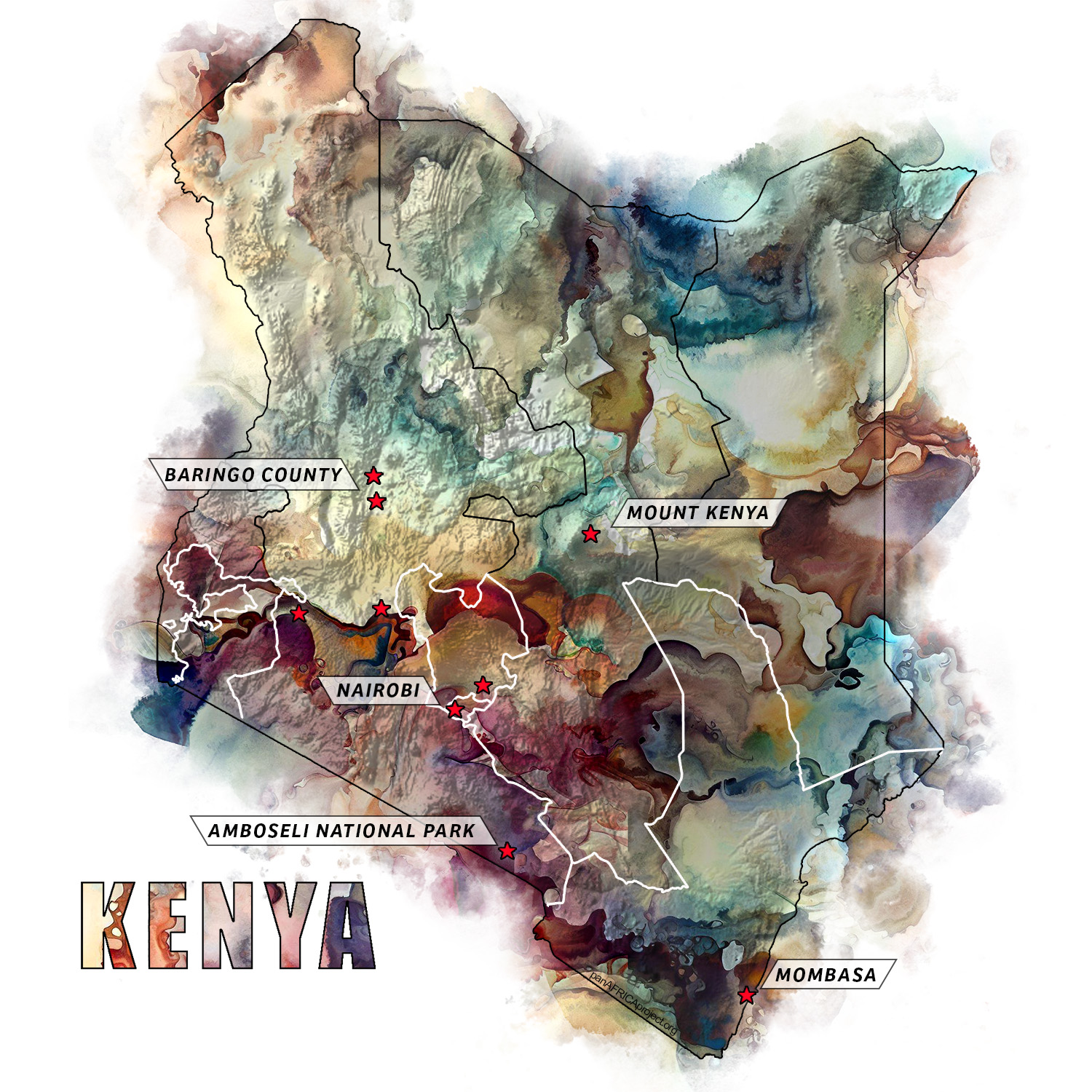 Once known as British Kenya the fertile land of the Great Rift Valley was colonized and influenced by the Queen of England for decades until gaining independence in 1963. The Kenyan flag was designed with the colors black (people), white (peace), red (bloodshed) & green (vegetation) & proudly displays the Maasai shield & spears. Under the royals, tea became & still is a leading cash crop exported to destinations around the world. Coffee is a major crop along with vegetables & flowers.

Kenya has the remarkable quality that you can see magnificent wildlife within site of the modern capital Nairobi. This makes a quick summary of the contrast between the vast wild areas and the sophisticated urban life.

Step into Kenya's capital city of Nairobi & you'll feel the dynamic, fast-paced energy of this young country. Matatus wrapped up in pop culture imagery transport workers blaring music from loudspeakers. Modern skyscrapers tower over roundabouts jam-packed with sedans, vans & boda bodas racing toward the next traffic light.
Shopping malls hawking everything from designer shoes to safari souvenirs draw locals and tourists inside. Aromas of international cuisine as well as Kenyan ugali, nyama choma & chapatis waft from restaurants & street carts. Electricity buzzing & kerosene lamps fluttering.
Nightclubs pulse to the beat of DJs under colorful lights. With almost 60% of Kenya's population under the age of 25, the city whirs with the vitality of youth, their dreams, their passions & possibilities.

Swahili & English are the official languages used by government, schools, radio, television & newspapers along with many regional languages spoken throughout the country by cultural groups such as Kikuyu, Luo, Kalehjin, etc. It is estimated that there are 44+ tribes with deep rooted ethnic identity, which sometimes leads to political & economic discord. There are stories of major cattle rustling between neighboring communities in rural areas & frequent clashes during elections in urban areas.

To Kenyans agriculture is an art, science, business, way of life. More than 60% of Kenya's population work in agriculture. Indigenous communities rely on the raising of livestock to keep their way of life intact. Challenges abound. With some government assistance, water stations installed throughout rural communities bring some relief to herders & their families during dry seasons. The patchwork of farms in the Rift Valley is where farmers grow maize, sorghum, beans & millet. Tropical fruits grow in orchards that straddle the equator. In city offices, young engineers and innovators are hard at work researching & developing high-tech solutions.

Politics, corruption, education, climate change. Citizens of Kenya are addressing issues around food insecurity, affordable housing & preserving green city spaces. The effects of climate change are being felt & community conservation groups tackle issues like overdevelopment, the lack of recycling initiatives & the effects of extreme weather patterns. Women are a large part of this movement. The first woman to win a Nobel Peace Prize is Kenya's social, political & environmental activist Wangari Maathai in 2004. She is recognized for her work in sustainable development & conservation, human rights & peace.

Bisected by the Great Rift Valley, a geological wonder, Kenya is the leading safari destination in the world with over 50 national parks & reserves including Masai Mara, Amboseli, Tsavo & Nairobi National Park, which is the only wildlife park in the world located in a capital city. The Big Five, described as the fastest, the largest, the strongest: elephants, lions, leopards, rhinoceros & buffalo draw tourists. The annual wildebeest migration is the largest animal movement on earth. Kenyan currency prominently features the Big Five.

The politics of Kenya is a democratic republic with a bicameral parliament & multi-party system. There is widespread contention in the national elections. Civil rights violations have expanded to large numbers of the population with tribal affiliations dominating the electorate with corruption perceived as a major problem. However, there has never been any major civil unrest & the country by all accounts is considered stable.



All Kenya illustrations on this page by Lou Jones
Kenya Gallery
Following is our gallery of Kenya images. Click any to see it larger; then use arrows to see next images. You may SAVE images for academic use simply by right-clicking the images. Contact us for access to full resolution images and terms for publishing.